Filter by Category
Community Events
RSU4: 'ME Suicide Prevention Program'
with Laurie Cavanaugh

Jun 18, 2018 at 5:30 pm
THIS SEMINAR IS BEING HELD AT OAK HILL HIGH SCHOOL, AUDITORIUM. THIS IS A SHARED PUBLIC EVENT!
Presented by G.E.A.R Parent Network, Laurie Cavanaugh, CPSP, Regional Parent Support Coordinator
Suicide is a significant concern in Maine and nationwide, but we can do something about it. Come learn more about what you can do to prevent suicide. The goals of the workshop seminar are to heighten awareness about suicide in Maine and beyond; increase the ability to speak openly about suicide; provide information about the risks and protective factors associated with suicide, teach what warning signs and clues to look for; teach skills to intervene when concerned someone might be considering suicide; and provide helpful resources for participants.
Monday, June 18th at OHHS, Auditorium from 530-730P
This is a FREE Community Event!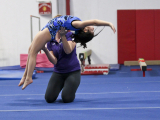 RSU4: Tumble with Cat Haley
with Cat Haley

May 16, 2018 at 2:15 pm

, runs for 6 weeks
THIS OFFERING IS HELD AT OAK HILL HIGH SCHOOL, CAFE! THIS IS OPEN TO THE PUBLIC!
Our Tumble with Cat program has grown, we've acquired tumbling/performance assisting mats, barrels and cheese mats!
Youngest age is 4years old, enrolled in a PreK program and up to the oldest and advanced ability! Cat will work with each student to perform, perfect and establish their tumble skills! Boys and girls are welcome and encouraged to attend!
Classes are formed by age and ability, with information collected at time of registration. When completing the registration form, please indicate what time slot is preferred. We will make every effort to accommodate when creating groups and setting times*
Our SPRING 2018 session will begin at OHHS, Cafe for the 6week session. Each class runs for 1 hr!
Class times are held at the following start times; 215P, 330P, 445P, 6P & 715P!
Session dates: Wednesdays Beginning May 16th-June 20th, 2018
Cost: $75 per student, multi-child discounts are available!