Filter by Subcategory
Business & Skills Training
Keyboarding Review
with Kelli Gilzow

Sep 5, 2017 at 5 pm
, runs for 10 weeks
Overview of basic computer skills, an easy to use 'roadmap' to prepare students for daily use of the computer for communication. This is not a substitute for a full 'typing class'. Keyboarding skills will need to be demonstrated at a 25 WPM minimum.
Four main skill areas will be covered; Mouse skills, Navigation skills, Keyboarding skills & word processing skills.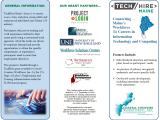 TechHire Maine
with Jim Palmer

Oct 10, 2017 at 6 pm
TechHire is a program designed to recruit, assess, train and place young adults into Maine's IT industry in positions like computer support specialist, software, and health informatics. Completed training results in credentials recognized by the IT industry. This grant funded program provides a host of services to train young adults (between the ages of 17-29) and career changers who are looking to transition into IT roles. *Eligibility requirements do apply.
This 4 million dollar project is fully funded by a U.S. Department of Labor Employment and Training Administration grant awarded to Coastal Counties Workforce, Inc. This program is an equal opportunity employer/program. Auxiliary aides and services are available upon request to individuals with disabilities.
FREE Overview Seminar: Tuesday, October 10th at 6P!