Filter by Subcategory
Business & Skills Training
College Preparation & Prepare
with Kelli Gilzow

Feb 27, 2018 at 5 pm

, runs for 17 weeks
College Preparation & Prepare includes our traditional Adult Education intake and assessments!
But includes a Career Exploration & Networking/Advising services matching you up for academic coursework to prepare you for entry into college!
This includes Accuplacer testing (pre, official & post testing)!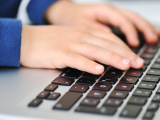 Keyboarding Review
with Kelli Gilzow

Mar 7, 2018 at 3:30 pm

, runs for 10 weeks
Overview of basic computer skills, an easy to use 'roadmap' to prepare students for daily use of the computer for communication. This is not a substitute for a full 'typing class'. Keyboarding skills will need to be demonstrated at a 25 WPM minimum.
Four main skill areas will be covered; Mouse skills, Navigation skills, Keyboarding skills & word processing skills.